Why now is a great time to review your exploration tech stack
Written by Sachee Perera
25 Jul 2022
High quality data is key to a successful drill program. But, even the best data won't help you if it's not available in the right format, at the right time.
Your tech stack (or lack thereof) plays a crucial role in helping you to interpret your data and determine if the money you're spending is translating into metres drilled.
If you can't quickly and easily find the answer to this and other important questions, you're at risk of wasting resources or missing vital opportunities that may have major consequences on the results of your drill program.
In this article, I'll explain what an exploration tech stack is, and why you should evaluate how well yours is serving you right now - not in six, twelve or eighteen months' time.
What is an exploration tech stack?
Your tech stack (or 'software stack') is the combination of digital tools that your team uses to run your exploration drilling campaigns.
Your exploration tech stack likely includes geology-specific software packages like Leapfrog, Micromine or Seequent, but it also probably includes a range of common tools like Microsoft Excel, DropBox or Google Drive for project management and operational data.
Every explorer's tech stack will look slightly different, but the end goal they are trying to achieve is the same: to run a drill program on time and on budget.
Some tech stacks are better than others at helping Exploration Managers monitor the progress toward this goal.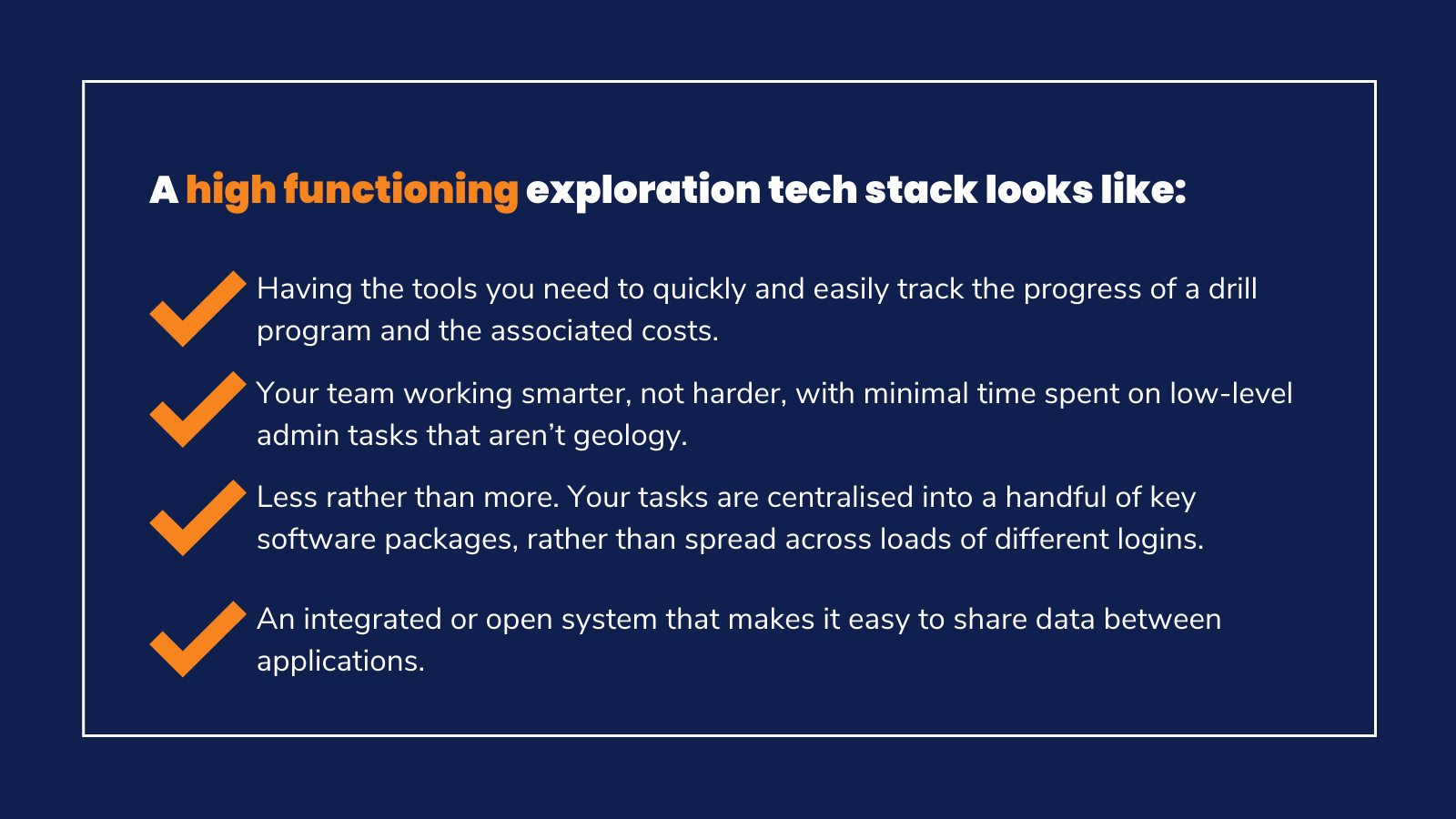 As a general rule, your exploration software stack should feel like it 'just works' for your team. It should be easy to use, help you reduce time spent doing manual work, and enable quick access to the insights you need to be able to make informed decisions.
If this doesn't sound true for your team, now might be a good time to evaluate your exploration tech stack!
So, why now?
It's 2022 - 'mining software' should no longer be a term that raises your blood pressure. If you've worked with a software tool and wondered if there's a better way - chances are that there probably is!
Just because your tech stack worked for you when you first set it up four years ago, doesn't mean that it's the best solution for your team now. Your team may have grown or contracted, your data needs may have changed or you might be noticing points of friction or inadequacy after spending time embedded in the workflow.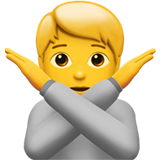 Two of the biggest frustrations experienced by Exploration Managers with sub-par exploration tech stacks include disorganised data and late data. If your team's data entry and analysis aren't able to keep pace with the rig, you're losing valuable time to make decisions during your limited field season. There's nothing worse than realising you should have ended a hole or changed course days or even weeks after the fact, but the money's already been spent.
If you're manually tracking your costs or using slow, outdated software that makes it hard to see exactly where your money is going, you're exposed to risks like paying for incorrect charges or missing preventable wastage of expensive consumables. Or, worse, you find out once it's too late that a hole isn't worth the cost per metre, but you've already sunk hundreds or thousands of dollars into it.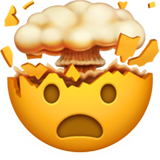 Problems like these become additionally pulse-raising when we look at the predicted economic environment explorers will be operating in within the coming months and years.
Prices are rising and there's no sign of them slowing down any time soon. With everything from fuel to lettuce costing significantly more, it's pertinent that you're across your financial position and have a firm grasp on your costs.
It's time to start looking at measures to safeguard your operations against changing economic conditions.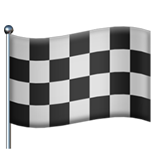 A product of these conditions that we are already seeing right now is a competitive labour market. Wages are rising due to the shortage of geologists, and working conditions play a major role in the race for people.
If your software creates additional stress and burdens on your staff, there's a risk they'll leave for greener pastures, where they can spend more time on what they want to be doing - geology. Plus, if your data management systems are inadequate, departing staff may inadvertently take knowledge and insights with them, leaving you without the critical data you need to ensure continuity and the success of the drill program.
The new Australian Labour Government is expected to take a strong stance on the environment. It's not unreasonable to expect that regulations and reporting requirements across the mining sector will be affected. Having operational oversight, strong data collection processes and accessible records will be important to make sure you're meeting your compliance goals. The faster and easier it is for your people to record the data, the more likely they are to stick to it amidst the pressure of the drill program.
The aforementioned risks should be expected to compound here ahead of an expected commodity cycle change and contraction of the mining industry.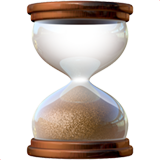 It's time to start preparing for mining's digital future. The way the industry works has changed, even compared to one or two years ago. Exploration technology is becoming more sophisticated, increasing the capacity of Exploration Managers to run agile drill programs where decisions are made based on the results of the last shift.
The expectations of stakeholders, including shareholders and boards, are also changing. Return on investment is key amidst tighter budgets and increased economic pressure. Dynamic, data-driven drill program management where cash is reallocated today, is the new normal.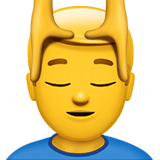 Finally, we've just begun a new financial year and before we know it, Christmas will be upon us. A time of year when everyone starts to wind down and projects can stall as everyone heads off for a well-deserved break. So, if you want to make any changes to your software stack, you may want to get cracking now in order to make the transition before everyone switches off for the year. Delay now and before you know it, nothing will happen until 2023 - or beyond. Can you afford to wait?
Software for Exploration Managers to manage their operational data in one place
The power of automation has officially arrived in exploration. New tools are entering the market that can help you increase your team and contractor performance, reduce costs or both. By automating manual processes like invoicing and reporting, Exploration Managers have the time and the tools to improve the operation of their drill programs, communicate better within their teams and share results with their stakeholders.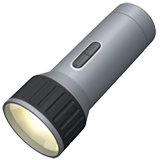 If your software package can shine a light on every aspect of your operations in real-time, on-demand, it becomes significantly easier to optimise efficiency and compliance, and nip issues in the bud before things can escalate. User-friendly data collection and record-keeping systems that your staff will actually use will be essential to protecting your business both now and in the future.
Project management software built for exploration can help.
Modern exploration operations management software gives time-poor Exploration Managers the tools they need to track their costs and drilling progress in real-time and run more effective drill programs. By centralising operational data into one place, it's quick and easy to flag issues in the drill program before they escalate, and ensure that money going into the project is resulting in metres drilled.
CorePlan is one of these platforms. Using CorePlan, it's easy for Exploration Managers and their teams to:
review and approve daily drill reports delivered in any format

track actual, expected and projected costs

visualise and track pre and post-drilling field activities by hole

generate progress reports

raise and track SDO's
and more.
Find out how exploration companies like yours are using CorePlan to run more effective drill programs here.